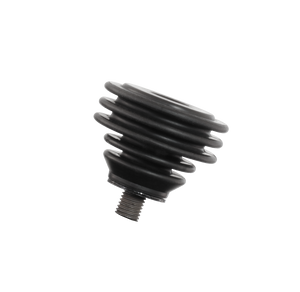 This Flex Doinker can be found on the Doinker Flex Hunters. This Doinker is designed for no more then 4oz on the end of it. It has a weight molded inside the end of the Doinker which helps remove vibration without any additional weights needed.
Not only does it work great on the end of a stabilizer but also anywhere on your bows riser that has a 5/16-24 threaded hole to remove an insane amount of vibration.
This Flex Doinker works great on an Olympic Recurve bow for removing vibration near or on your limbs where a 5/16-24 threaded hole is available.
It has a 5/16-24 Threaded Bolt exposed at the base of the Doinker and a 5/16-24 Threaded Hole at the end for stacking Multiple Flex Doinkers on top of eachother or for adding additional weights.